Award to be Presented at JCPA's National Conference in Washington, D.C.
The Jewish Community Relations Council (JCRC) of St. Louis will be presented with the the Jewish Council for Public Affairs (JCPA) Program Excellence Award at the upcoming JCPA2020 National Conference for their day camp for refugee children at the International Institute of St. Louis. The award recognizes an exemplary, outstanding, and/or innovative program that advances the goals of the Jewish community relations field and serves as a model for other communities.
Launched in 2016, the Jewish Coalition for New Americans (JCNA) Day Camp is a four-week, half-day camp for refugee children, held between the summer and fall school semesters. It provides support to new American families by removing roadblocks to success in the United States. The camp enables new American parents to continue English classes and gain job training unencumbered by worries of childcare when school is out of session. It also provides an opportunity for the children to gain English language skills, learn more about American culture, and develop a supportive peer community.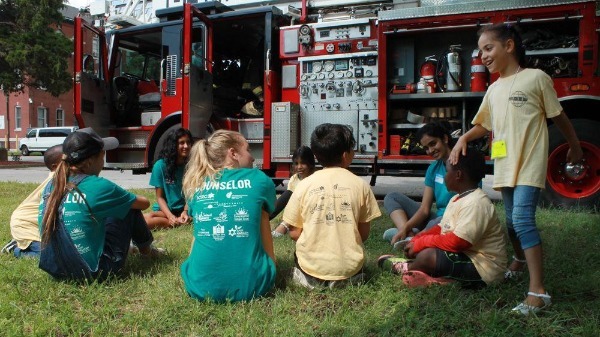 Campers at play a game of duck-duck-goose on Monday morning. Photo: Eric Berger
"JCPA is thrilled to provide this award to this meaningful project. Amid challenges to America's traditional narrative as a nation of immigrants, it is beautiful to see a local community coming together with other faith groups to welcome the stranger," said David Bernstein, President and CEO of JCPA. "We had many great submissions this year, but this one stood out as exemplary. It models the importance of doing intergroup work locally and tackling today's pressing issues."
The camp involves move than 200 volunteers from the Jewish, Muslim, and Christian communities, as well as the general public. Many of the volunteers have expressed interest in learning from the Jewish community how to organize something similar in their own communities.
"The JCRC of St. Louis believes that the future of the Jewish community in St. Louis is inextricably linked to the fate of the wider region. We are stronger, safer, and better together. Because this is our core belief, we work on supporting vulnerable communities, especially when they may have little or no experience with Jews," said Maharat Rori Picker Neiss, Executive Director of the St. Louis JCRC.
The camp, which enables the Jewish community to show up for immigrants and refugees in a meaningful way, was recognized with the International Institute of St. Louis' Lebadang Community Service Award at their Centennial Celebration and has been nominated for the UNHCR's Nansen Refugee Award. It has twice received front-page coverage in the local papers and extensive coverage on local television.
***
The Awards Reception is part of JCPA's annual National Conference that highlights the theme, "The Power of Community Relations." Alongside leading policymakers and advocates, attendees will explore how to harness the power of community relations to tackle antisemitism, criminal justice reform, immigration, gun violence, BDS, Black-Jewish relations, and more. For more details about the conference, visit jewishpublicaffairs.org/JCPA2020. 
Additional Information: